CBG is the Next Phase in the Cannabis Therapy Evolution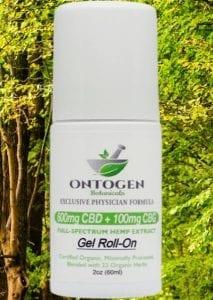 CBG oil cannabis therapy is paving the way to enhance well-being. Cannabigerol (CBG) is one of the more than 140 cannabinoids that are uniquely found in the cannabis plant. It had been overlooked in favor of the more popular compound CBD, but recently, researchers have begun to take a second look at evidence of CBG's considerable potential. The new Ontogen Botanicals Roll-On combination with 600mg CBD + 100mg CBG is an exciting product that many doctors in the Ontogen Physician Partner Program are excited about. There are many conditions that haven't responded well enough with standard pharmaceuticals alone that doctors and patients are looking to improve by the CBD + CBG combination. 
CBD vs. CBG
Many readers are likely familiar by now with CBD due to the cannabis compound's meteoric rise as a treatment for anxiety, depression, chronic pain, insomnia, and seizure disorders. The good news for anyone interested in CBG is that both CBD and CBG work on the same receptor sites and thus yield many of the same effects on the human endocannabinoid system. CBG can be thought of as "the mother of cannabinoids" as it is the first cannabinoid that the cannabis plant makes. From CBG all other cannabinoids like CBD and THC are derived as the plant matures. To extract CBG, the cannabis plants must be harvested very early (when the plants are small), prior to the transformation to the production of CBD, THC, and about 140 other cannabinoids. The higher cost of CBG rich hemp to extract CBG products makes CBG products cost more than CBD products. Which is why, aside from a lack of CBG knowledge, most companies don't make CBG products. CBD oil cannabis therapy is rising to become a well-known favorite among users worldwide. 
CBG Safety
Cannabigerol (CBG) is considered safe to use because like CBD, it does not trigger the intoxicating effect that cannabis users refer to as a "high" nor display any long term effects. Ontogen is contracted with a Certified Organic Hemp farm in Colorado for their exceptional CBG rich hemp harvest.  As with all Ontogen products, it is further tested for every contaminant possible by an independent ISO17025 certified laboratory. Ontogen Botanicals is only using CBG in topical applications for its powerful inflammation reduction as yet. CBG oil cannabis therapy is the next phase of cannabis evolution.
While research has shown cannabis to be effective in providing palliative and therapeutic effects for some patients, always seek the advice of your physician or another qualified health provider with any questions you may have regarding a medical condition and before starting any new treatment utilizing medical cannabis or discontinuing an existing treatment. The content on this site is not intended to be a substitute for professional medical advice, diagnosis, or treatment.